"

Discover

Your Personal Genius & Find Simple Solutions To Complex Issues In Your Life"
Join Me In

---
What are conversations?
These are my life coaching sessions in small groups (8 people maximum).
In each of these sessions we explore just one issue/topic (e.g. money, prosperity, anxiety, fears, relationships etc.) from inside out perspective.
You will discover your internal experience about the topic of conversation – i) Where you are with respect to it, ii) How it is impacting your life, iii) Where you want to go and iv) How you can get there.
These conversations are based on a theme, that deep within each and all of us there is a creative intelligent system of inner guidance. But when we lose touch with this wisdom within, life becomes  difficult.
Using my skills as a life coach and expertise in technologies of mind (e.g. NLP™ & Conversational Hypnosis), I coach & guide you to see through clutter of thoughts, old ideas, limiting beliefs, faulty perceptions etc. and help you find answers within you.
As cobwebs from your thinking are removed solutions begin to surface naturally and your creative potential begins to shine through enabling you find simple answers to seemingly complex problems.
That's all!
Benefits of conversations…
Many people find this opens knot in their thinking and make positive & lasting changes … naturally, easily & almost automatically.
In past I have run these sessions on topics including…
Overcoming Anxiety
Fearless Living
Prosperity & Abundance
What will people say
Beauty Vs Charisma
Mind Power
SOUL
Burnouts and many others
Duration for each conversation session is 90 minutes to 120 minutes. You can attend any or all session you like. These will be Online sessions.
Participants from previous sessions said…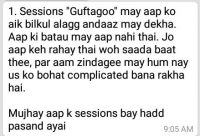 "Uncover Your Wisdom & Clear Mental Cobwebs"
Topics For Upcoming Conversations
Dates:
Session 1 (Uncover Your Wisdom) : Feb. 08,2018
Session 2 (Wealth Cobwebs) : Feb. 09,2018
Session 3 (Relationship Cobwebs) : Feb. 10, 2018
Session 4 (Cobwebs Around Potential ) : Feb.12, 2018
Investment
Join any 01 session pay Rs.6,000/-
Join any 02 sessions pay Rs.10,000/- (SAVE Rs.2000)
Join any 03 sessions pay Rs.15,000/- (SAVE Rs.3000)
Join all 04 sessions pay Rs.18,000/- (SAVE Rs.6000)
Timing for sessions will be from 6:00 pm to 7:30 pm Pakistan time.
How to Register?
In Pakistan, you can pay in any branch of Meezan Bank ltd. Select the session(s) you want to join. Send your name and conversation topic(s) in a message on What's app to +92-300-2198031 and we will send you account details.
If you are outside Pakistan, what's app your name and conversation topic(s) you want to join. We will send you payment options.
Once registered, you will get link to sign up for Online Session. You will get recording of your session.